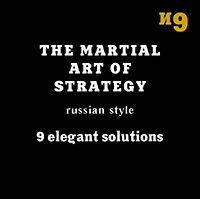 The Martial Art of Strategy, russian style, 9 elegant solutions
The elegant Solutions by Igor Grishin and Mikhail Emelyanov are 9 stratagems of Russian civilization. All of them together create a harmonious, strategic framework as each solution carries historical, economic and military examples. This is a high-quality strategy development, which does not have foreign analogues.
I. Grishin, M. Emelyanov. — 192 p.
Формат файла: PDF